Late at night I got this niggling thought about whether there's a map of Gilligan's Island.
The answer
is that there are several maps of the island used in the show itself and many inconsistencies between them as well as large disparities about the Island's location:
This is the most often used outline of the map of the island, although how all the different landmarks depicted in various episodes could be contained on such a small space is beyond the capacity of space-time as it's currently understood. The island's oft-visited volcano isn't shown and can't be seen in the island's profile in the opening credits. The endlessly-extensive jungle with its caves and mountains and quicksand and so forth could not possibly fit in this space... not to mention the ridiculous patchy biodiversity.
Here's a map that The Professor made to track a hurricane bearing down on the island:
Here's a view of the island from an orbiting space capsule in an episode I remember quite well about the castaways trying to get themselves seen by a burning arrangement of logs spelling out SOS. It's radically different from The Professor's map and shows no volcanic peak: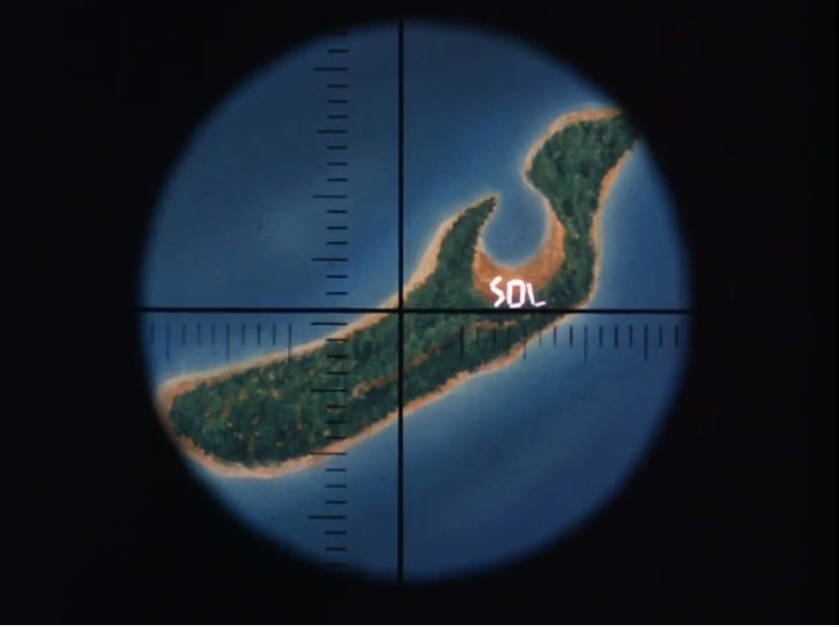 Here's another map of the island, which at least shows the volcano, and resembles The Professor's map. I don't remember this episode though:
The island used in the credits in Seasons 2 & 3 is "Coconut Island" or Mokuoloe. It is located in Oahu's Kaneohe Bay.